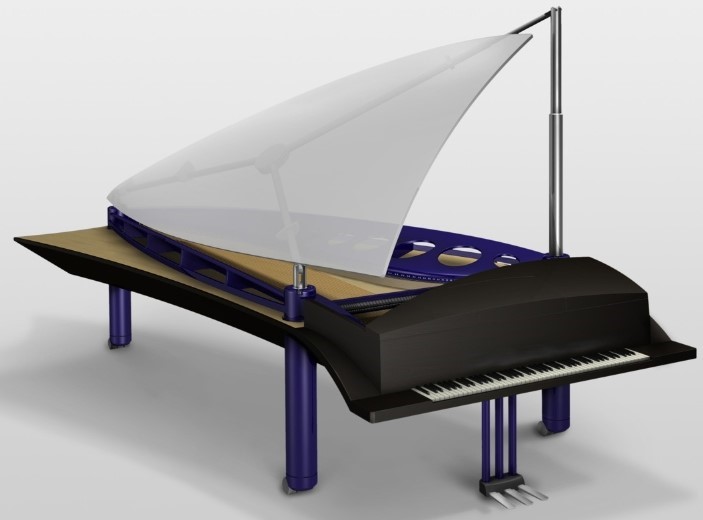 Concert Grand Piano –
Introducing The FORMULA ONE Category
In The Field of Concert Grands
State of the art of acoustic piano building is generally considered to be represented by Steinway & Sons. Their flagship model D-274, usually the first choice of most concert pianists, has been first built in 1884 - nearly 130 years ago. Since then little to no real innovation has commenced in this field, except some cosmetic. The Klavins Model 408 marks the first radically new, innovative approach in building a concert grand piano that is unmatched in sound quality, sound dynamics, and technology. It's mission is to eliminate each and all acoustic and technological shortcomings that are associated with traditional grand pianos, including Steinway.
The Klavins Model 408 is set to embody the next chapter in the history of piano making, offering a new, enhanced dimension of piano sound, combined with uncompromising technical features, some of which have been never deemed possible at all – like the adjustable string pressure on the soundboard at a fully strung piano (which guarantees a maximum sound quality), or the action and keyboard that are virtually free of friction, and thus, of wear and tear, and the option to adjust the keyboard level vertically, by lowering or raising the piano with the push of a button.
It is time to establish the FORMULA ONE category, after all the "racing" has been performed only by fine limousines until this day – building a concert grand piano strictly driven by aspects of maximum performance quality. The initial prototype, the Klavins Model 370, was built in 1987 as a vertical concert grand, to test the new shape and size of soundboard and string scale. The positive reactions of many professional pianists, who have played it, and have recorded music on this instrument, are indicating a considerable market potential for the final product, the Model 408. Besides the piano itself, there is a remarkable sales potential for the new action and keyboard, made completely of carbon fiber enforced composite materials, to be used as well as a replacement of conventional piano actions. Introducing this disruptive piano would certainly make it a winner in the high-end concert grand category, as it would represent a real "dream-come-true" for professional pianists and piano music lovers alike. We are seeking a sophisticated investor who understands the scope of this development. The amount necessary for completing the Model 408 prototype, its' market introduction and establishing a production site is estimated around € 5-7 Million.